Anzeige
Strategic Marketing & Brand Management
Organisation:

Typ:

Full-time

Certificate:

Master of Science (M.Sc.)

Duration:

4 semester(s)

Bundesländer:

Berlin
North Rhine-Westphalia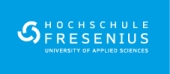 Programme
Our Master's program in 
Strategic Marketing & Brand Management (M.Sc.)
 is designed for individuals who hold a Bachelor's degree in a business-related field and aspire to become skilled marketing and brand managers. These professionals are responsible for making brands stand out, creating a competitive and long-lasting advantage. They develop strategies for brand positioning, create comprehensive communication plans, and oversee their execution and implementation. The program provides the necessary knowledge and skills for students to excel in this highly sought-after field.
In this program, you'll receive hands-on instruction from industry experts. You'll engage in various projects and case studies. In addition, interactive learning, field trips, guest lectures, and workshops are all integral components of our teaching approach at Hochschule Fresenius.
Job opportunities
The M.Sc. program is designed to provide you with the necessary expertise for a successful career in marketing and brand management. Through a combination of strategic marketing, brand management, and consumer research, you'll develop in-depth knowledge and the ability to identify challenges and opportunities in the market.
After completing the program, you'll be qualified to work in various roles in both domestic and international companies across different industries, non-profit organizations, or start your own business. You'll also be prepared for
leadership positions
corporate communications and relations
strategy consulting roles
activities and management roles in business associations and other interest groups
change management and management consulting positions
Additionally, you may choose to pursue a doctorate after completing the program.

Curriculum
The Master's program in Strategic Marketing & Brand Management (M.Sc.) provides comprehensive knowledge and skills in various areas of marketing and brand management through a rigorous understanding of consumer behavior. You'll explore the following topics:
Strategic Marketing: Develop and implement effective marketing strategies.
Brand Strategy & Positioning: Manage brands strategically and position them in the international and global marketplace.
Consumer Behavior & Psychology: Understand the theoretical background of consumer decision-making behavior, attitudes, and consumption, and conduct research to uncover insights for brand and marketing strategies.
Advanced Market Research Methods: Acquire the skills and methods to understand and influence market developments and research in-market challenges.
Leadership, Innovation Management, & Creative Thinking: Learn contemporary leadership theory and practice, innovation management methods, and problem-solving processes to enhance creativity.
Research Methodology and Scientific Practice: Equip yourself with skills, methods, and methodological understanding to research and communicate academically rigorous and well-founded insights and knowledge.
In addition to this, you can improve your German or other foreign language proficiency and customize your professional profile through elective modules, internships, or semesters abroad.

Program Structure
Our Master's program in Strategic Marketing & Brand Management (M.Sc.) consists of four semesters. The first two are dedicated to helping you build a strong foundation in marketing and brand management. Coursework includes:
Strategic Marketing Management
Brand Theory & Corporate Brand Strategy
Leadership & Management
Advanced Project Management
Brand Architecure & Positioning
Innovation Management & Design Thinking
Quantitative & Qualitative Methods for Business
The program also offers a range of elective modules that allow you to tailor your studies to your specific interests. During the 3rd semester, you can select an elective module from the following options:
Corporate Finance
Sustainability Management & CSR in a Global Context
Entrepreneurship
International Relations & Current World Affairs
Alternatively, you may choose to complete an internship in place of an elective module or opt for a semester abroad. You'll conclude your studies with a Master's thesis.
Entrance requirements
To be eligible for admission to the Master's program in Strategic Marketing & Brand Management (M.Sc.) at Hochschule Fresenius, you must meet the following requirements:
Bachelor's degree: You must have successfully completed a Bachelor's program consisting of at least 180 credit points.
Subject-specific admission requirement: You must have earned at least 90 credit points in management or business administration during your Bachelor's degree. If you have earned less than 90 credit points in these fields, you must pass an admissions test.
Language skills: Your English language skills must be at Level B2 or higher according to the European Framework of Reference for Languages.
If you haven't yet completed your Bachelor's degree, you can still apply for the Master's program at Hochschule Fresenius. However, you must have achieved at least 80% of the required credit points by the time of enrollment. Bachelor's students at Hochschule Fresenius are only required to pay the monthly tuition fees for the Master's program when they start the program.
Program start:
Winter and summer semester
Application timeframe:
possible all year round
Tuition fee
880,00 € monthly
Information material
Order information material from Hochschule Fresenius. The given data is transmitted only to this educational provider and, of course, not given to a third party.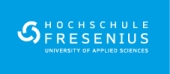 Organisation
Hochschule Fresenius
is a place where tradition meets innovation, teaching meets research, and theory meets practice. But above all, it is a place where people come together – students, lecturers, professors, and more – each with their own experiences, viewpoints, mindsets, and behaviors. As a private university of applied sciences, we want to give them all the space and freedom to evolve, grow and pursue their goals. In short, we want to be a GREAT PLACE TO GROW.
Hochschule Fresenius began life as the "Chemisches Laboratorium Fresenius" (Fresenius Chemical Laboratory) in 1848 and has evolved into a privately owned German university with a long educational history. It is the oldest educational institution of its type in the field of chemistry. It combines teaching, research, and practical experience exactly as envisaged by its founder, Carl Remigius Fresenius.
Locations
BERLIN
Fachbereich Wirtschaft & Medien
Jägerstraße 32, 10117 Berlin
studienberatung-berlin@hs-fresenius.de
T: +49 (0)30 7001579-57
COLOGNE
Fachbereich Wirtschaft & Medien
Im MediaPark 4c, 50670 Köln
studienberatung-koeln@hs-fresenius.de
T: +49 (0)221 973199-55
Contact
Hochschule Fresenius