Anzeige
Master in Data Analytics and Management
Organisation:

Typ:

Part-time

Certificate:

Master of Science (M.Sc.)

Duration:

4 semester(s)

Bundesländer:

Hesse
Hamburg


Programme
Our ever-changing world pushes many companies towards the treacherous and exciting path of digital transformation. Managers are now required to foster purpose-driven innovation and motivate organisational change through new and disruptive technologies. Our
Master in Data Analytics and Management
will help you face the technical, strategical and organisational challenge that this represents, by providing you with skills in big data, digital transformation, communication and leadership.

The Master in Data Analytics and Management is a part-time programme, specifically tailored to the needs of managers and young professionals who would like to stay fully employed throughout their studies. We propose a dual-study structure, alternating block-weeks, which take place from Monday to Saturday approximately every nine weeks, and self-study phases, where you will work at your convenience, alone or in groups, on study-topics that you can choose to base on your own business projects, or on real-life cases.
Our lecturers and professors accompany you during both phases of study, providing guidance, advice and recommendations throughout the whole programme. Firstly, you will get insights into the foundations of key technologies like machine learning and blockchain. Secondly, you will be shown how this technological innovation can be translated into business-use cases. Finally, as a third step, you will be guided through the human aspect of digital transformation - how to bring key stakeholders on board to lead a sustainable change, which is crucial for long-term success. The last semester, consists of a six-month Master's thesis and a final conference.
Highlights
Cooperation with SAP Innovation Center
Lecturers specialised with state-of-the-art scientific knowledge
Practical application of methods and theory
Extensive network of industry experts and potential employers
Requirements
A first academic degree (Bachelor, Diploma or equivalent)
Preferably 2 years of relevant work experience
Excellent written and spoken English skills* (TOEFL - 90 iBT/IELTS 7.0 or equivalent)
Successful participation in our admission interview
*Please note: Language proficiency waivers are possible for candidates, who have competed a previous degree in English, lived in an English speaking country for longer than a year or whose work language is English (confirmation from employer required).

Important information
Frankfurt
:
Start date: October
Earlybird deadline: 30th April
Application deadline: 15th August
Hamburg
:
Start date: March
Earlybird deadline: 1st February
Application deadline: 1st November
Information material
Order information material from Frankfurt School of Finance & Management. The given data is transmitted only to this educational provider and, of course, not given to a third party.

Organisation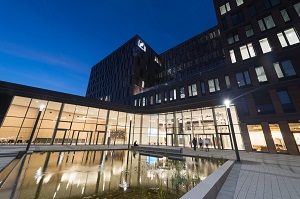 The Frankfurt School is one of the most active German business schools in terms of research. With its practical and research-based orientation it regularly achieves top positions in various rankings.

The Frankfurt School of Finance & Management features one of Germany's largest business administration faculties. Its professors work hand in hand with policy-makers and executives to offer tailor-made solutions to topical questions. Research findings from the five departments are employed in leading corporations, the finance sector, in politics, and on development issues. Members of our faculty frequently comment on topical issues in all media.

Contact
Contact
Frankfurt School of Finance & Management
Adickesallee 32-34
60322 Frankfurt am Main
Germany
Map
Phone:

Fax:

+49 (0) 69 154008-728

E-Mail:

Web: