Anzeige
Commercial Vehicle Technology/ Nutzfahrzeugtechnologie
Organisation:

Typ:

Full-time

Certificate:

Master of Science (M.Sc.)

Duration:

4 semester(s)

City, country:

Kaiserlautern, Rhineland-Palatinate, Germany


Programme
The international & interdisciplinary CVT-program is conducted by four departments of the University of Kaiserslautern
The Department of Mechanical and Process Engineering,
the Department of Electrical Engineering,
the Department of Computer Sciences,
the Department of Social Sciences as well as numerous partners in industry and science.
The program is designed as a two years Master program and leads to a M.Sc. degree. A considerable part of the program is taught in English.


The University of Kaiserslautern, its Graduate Schools, Research Centers and partnering Research Institutes are among the leading networks in Europe with regard to graduate education, doctoral training, research as well as technology transfer in the field of commercial vehicle technology.

Target audience
The international and interdisciplinary Master program CVT was especially designed to meet the needs of
Highly qualified German & International graduate students
Further education for high potential employees of CVT Enterprises in the broad CVT-sector.

Emphasis/Curriculum
Graduates of the CVT-Master will be provided with basic knowledge in each of the three engineering disciplines combined with special CVT-knowledge either in Mechanical Engineering, Electrical Engineering or Computer Science. The technical component of the Master's course will be complemented by cross-disciplinary and soft skills courses.


The program implies:
Compulsory engineering modules (choice from catalogue)
Labs, project work and internships with regional and international industries
Cooperative research activities
Study or internship abroad for German graduate students at Partner Universities
Social science and soft skills courses
Orientation Course (including Language course) for international students

Practical relevance
Graduates of the CVT-Master program should be able to work on the increasingly interdisciplinary areas of application in the Commercial Vehicle sector.


A special regard of the program is paid to the international aspects of the CVT sector: The study program is designed for international and German students (that will have to pass one semester at partner universities abroad) and includes questions of the Commercial Vehicle Industry worldwide.
Admission/Entrance requirements
Total fees approx.

3600 €
The interdisciplinary Master Program Commercial Vehicle Technology is open to qualified graduates with a Bachelor, Diploma or equivalent degree from a renowned university in engineering or computer science or related fields (i.e. Mechatronics, Physics..).


As an international program approx. 50% of the lectures are held in English, thus no knowledge of German is required at the beginning of the studies. For international students, a German Language and Orientation Course is part of the program.


However, for the application, English proficiency has to be proved by TOEFL (213 computer-based, 550 paper-based, 80 internet-based) or other internationally recognized tests.


Application Deadline for International Graduates:
For International students applying from abroad: April 30.
For holders of a German degree: August 31.
Languages
| | |
| --- | --- |
| Language(s) of instruction: | German, English |
| Going abroad: | möglich |
For German Students it is recommended passing one year at one of our Partner Universities:
Budapest University of Technology and Economics (BUTE), Hungary
School of Mechanical, Industrial & Manufacturing Engineering, Oregon State University, USA
Universidade Federal do Rio Grande do Sul, Brazil (planned)
Our Service for International Students
The Graduate School Commercial Vehicle Technology cooperates with the "Distance & International Studies Center" (DISC) at the University of Kaiserslautern. Within DISC, the "International School for Graduate Studies" (ISGS) provides a broad range of services for Master's and Doctoral students:
Correspondence relating to application, admission and grants
Pre-departure communication
Reception and welcome on arrival in the city
Support in administrative and organisational issues
Help in visa and resident permit issues
Organisation of accommodation (on and off campus)
DISC/ISGS continues its social services throughout your studies and adds:
Cultural programmes and events
Intensive German Language and Integration Courses
Help in establishing contact with departments, institutions, industry etc.
Contact with the international student clubs and associations
Information material
Order information material from TU Kaiserslautern. The given data is transmitted only to this educational provider and, of course, not given to a third party.

Organisation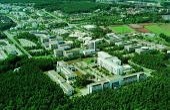 The Graduate School Commercial Vehicle Technology is a Graduate School at the University of Kaiserslautern. The CVT Graduate School fosters the R&D cooperation in the field of commercial vehicle technology by a new educational concept. It is striving to achieve excellence in CVT by qualifying Master and doctoral students in close cooperation with industry. Education and research on CVT topics will integrate all important fields within the product lifecycle of commercial vehicles, such as power train, vehicle design, vehicle system dynamics, materials, joining technology, production technology, information technology as well as humanmachine-interaction, sociological aspects and key competencies into the CVT school.
The Master Program CVT will be part of the Graduate School CVT. The Graduate School CVT also offers doctoral research training options in the participating engineering disciplines.
Studying in Kaiserlautern
The University of Kaiserslautern is part of an excellent research environment closely cooperating with national and international industry, the "Science Alliance Kaiserslautern", i.e.: Fraunhofer Institute for Experimental Software Engineering in Kaiserslautern.


The CVT programme is embedded in the newly established "Graduate School Commercial Vehicle Technology" that fosters Research & Development in the field of commercial vehicle technology.


A concentration of manufacturing plants and suppliers in the field of Commercial Vehicles is found especially in the southwest of the country, where Kaiserslautern is located. In cooperation with qualification agents and researchers, these enterprises have established a communication and cooperation platform, the Commercial Vehicle Cluster.


Together with the Daimler Company and the Ministry of Economics of Rhineland-Palatinate, the University of Kaiserslautern is one of the founding members of the cluster.


The city of Kaiserslautern offers a unique mixture of hightech and unspoiled nature, history and progress that contribute to make it an international and, at the same time, a typical, traditional, friendly German city.


Kaiserslautern is situated in the heart of Europe, so it is an ideal location for exploring Germany and central Europe
Course guidance
Contact
TU Kaiserslautern
Postfach 3049
67653 Kaiserslautern
Germany
Map
Phone:

Fax:

+49 (0) 0631-205-4998

E-Mail:

Web: